Do you want to get into the current status of tech talent acquisition? Here are our insights that will help you find the right developers, QA engineer, and more IT remote teams for your projects. In addition, we have a free guide to check the worldwide developers' rates for 2022.
Factors that Influence Tech Talent Fees
More than filling IT remote teams with high-paying offers, the pandemic has highlighted other key factors to retain talent. The goal is to tackle the pain points of talent shortages, especially in more specific positions. We specialize in finding passionate tech people, so hire remote teams and try it for yourself!
Level of expertise: The knowledge and experience that talent has will obviously set the stage for what he/her is capable of doing. Thus, the responsibilities that he/her can manage.
Career plan: Develop opportunities to grow by providing tools and programs. Also making follow-up decisions on talent, current status, and future career projections. This is a powerful driver to keep an employee motivated to reap additional benefits.
Work modality conditions: While home office represents cost mobility reductions, there are several things to consider. These include payments based on standard living costs and flexible schedules.
Benefits: Alongside a salary, payroll benefits are one of the major differences between being a freelance or a full-time employee. This is not only a factor in talent acquisition, but also a justifier for working conditions negotiations.
IT Remote Teams Trends for 2022
More Flexible Work Conditions
Following the business reinvention derived from the pandemic, flexibility in work modalities will continue to be a trend. This makes sense given that talent acquisition and retention remain a current challenge for many industries.
This results in a hybrid work modality that improves employee comfort. This is an important thing to consider in aiming to reduce staff mobility while looking for better work incentives.
More Demanded High-Tech Talent
According to Motion Recruitment in its 2022 Tech Salary Guide, 61% of HR professionals are already concerned about finding qualified developers. Implementing a remote-friendly approach provides access to a wider talent pool with more locations. This could lead to cost reductions and high-tech profiling findings to match difficult job descriptions like QA engineer.
In addition to other interesting tech trends, CompTIA (2022) found out that the top tech positions for IT remote teams in the U.S. are Software Developers, IT Support Specialists, Web Developers, Systems Engineers/Architects, and IT Project Managers.
More Staff Mobility
Motion Recruitment also pointed out that 72% of tech professionals are considering leaving their jobs in the coming year. Talent will continue shifting roles to find new challenges until career opportunities inside a business become more and more attractive. Therefore, constantly revisiting pay ranges or desired salaries according to employee's level of expertise is a must for businesses.
In a scenario with less than 2% tech unemployment and 35% of developers with less than 5 years of experience, businesses would be able to count on all the talent they need. Motion Recruitment foresees that upskilling tech staff will help narrow the 70% talent gap between supply and demand.
Match the Perfect IT Talent
While adaptation, cloud infrastructure, and cybersecurity are companies' day-to-day activities, there are multiple ways to find the best talent.
It is important to understand that the HR department needs to constantly innovate in their talent acquisition strategies. These include reducing hiring time by speeding up and automating certain processes and minimizing the human touch during recruitment. Also presenting a clear IT remote teams description based on what you expect and what you can offer. Finally, implementing location considerations in time zones and salaries is a good idea.
In the bigger picture, the company must showcase a strong brand culture, a comfortable working environment, and a competitive package. These include constantly offering career development and learning opportunities for developers and QA engineer.
Using this approach during the recruitment process, your team can differentiate between a passionate candidate and a highly skilled one. It's key to consider prospect's attitude for fitting not only for the job, but for your company culture. Then, implementing an internal mobility strategy to create new paths to fulfilling your talent aspirations will help preserve that commitment. Employees will improve their skills and create new challenges with the advantage that they already know the company.
Getting the right talent is as important to you as it is to us, so don't carry that load alone.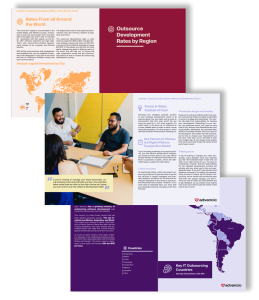 Check this free guide about worldwide developer rate 2022!