From staff augmentation to SEO improvement, these are the projects and initiatives we achieved this year as techlovers. Do the recount with Advancio!
1. Team Work Is our Main Power – Qs on 2021
Our 4 quarters aimed at building and aligning a high-capable team, developing and retaining talents, and launching a better brand awareness in our market.
2. Josie Was Part of WBENCs WeTHRIVE Program
Our CEO, Josie Lopez was selected to join the WeTHRIVE program powered by the Women's Business Enterprise National Council (WBENC). This program is a virtual executive development program to help Women Business Enterprises (WBEs) survive the uncertainty of today and grow and thrive for the future.
3. Karim  Shared his Love for Technology in Several Talks
Our CEO, Karim Jernite was invited to talk about how IoT devices predict behavior and ease our lifestyle in Voler Systems Talks, his insights about developers work and how they can advantage of Microsoft tools in Adventures in .NET, and how chatbots can improve your customer experience and sales regarding the insurance industry in Advancio's Make Customer Service Your Competitive Advantage in 2022 talk.
4. Art and Technology for TechLovers Is Possible!
Having made a previous internal campaign of QA, we launched the announcement for artists to create their vision of art and technology as part of our techlovers' projects. In this case, Javier Rivera Leon won the announcement with a design that reflects the influence of technology in the human power of creation and the inspiration that nature offers to this process. As a result, both Advancio and the artist created a valuable mural for the Ensenada community.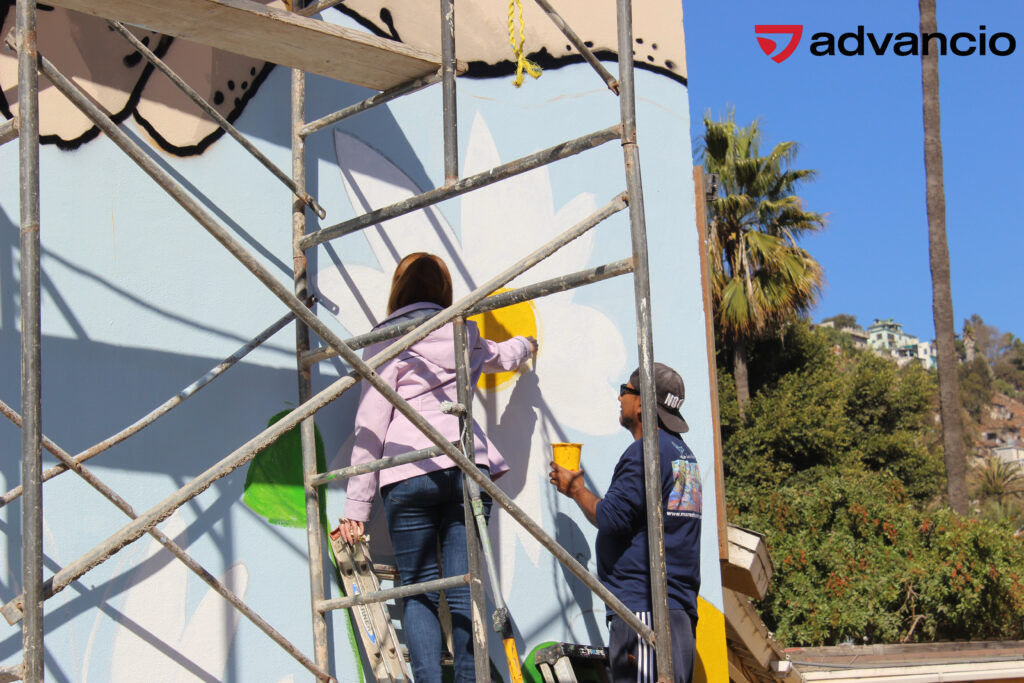 5. TechLovers Love to Work but We also Know about Fun!
Our Summer Party was all music, games, colorful drinks and food to cool down from the hot weather. Although some Advancians don't have the chance to enjoy all the facilities of the place and some of their balloons to participate in the games were broken before they got to play, the party was a pleasant experience.
6. We Launched our New Website and our New Marketing Agency: Ketzal!
We have refreshed our web presence and started a new marketing project! With a more dynamic website focused on business/clients and job seekers to optimize user experience, we have increased traffic and offered a more complete content platform and Advancio's presentation letter. We took the challenge and started Ketzal, our marketing agency. Consequently, our goal is to meet clients' more specific needs on Latin America's businesses communications.
7. Advancio's University for TechLovers Is on Fire!
Advancio's University was mainly launched to drive the growth and development of our collaborators by offering them a variety of courses both to develop tech skills and soft skills. Among these courses, we offered Leadership 101, Client Relations 101, English as a second language, SCRUM Fundamentals, Microsoft Certifications, and a UI-UX Chapter.
8. Pay it Forward by Advancians
During this year, Advancio collaborated with specialist partners as Grupo 360 CGM for various courses offered by Advancio's University. We also supported our communities in Mexico by donating resources to FFM4 Paso Libre in Guadalajara and Albergue San Vicente in Ensenada.
9. End of Year Party Was Filled with Loved Ones and Joy
Our End of Year Party was a great experience to be with everyone from Advancio, also having the opportunity to meet, see, and thank coworkers and clients we interact with for the achievements of the year. The End of the Year Party became an event full of funny awards granted and voted by techlovers from Advancio.
10. Advancio's Embraces Gold Partnership with Microsoft
Thanks to the certifications of our collaborators, implementation, and adoption of Microsoft tools like Office365®, Dynamics365®, Azure®, Power BI®, and Power Automate®, we have exclusive access to smarter training tools and programs, and stronger and multiple networking opportunities.
11. We Are in the BPO Business
Our BPO service focuses on offering IT solutions through high-tech teams based on clients' specific needs. With our over 10-years-of-experience in the market in recruitment, development, and innovation, we have proved that Advancio has taken the next step in its offered services.
12. As TechLovers, We Have our own Products, Meet AIVA
Finally, our AIVA Chatbot is the perfect option to automatize customer service. As a result, we can provide scalable, optimized, and quicker processes for other business departments. After all, we have learned how to train the AI model and connect through APIs with third parties.
13. This 2021 the Advancio Family Continued to Grow
This year we experienced rapid growth of 23% among collaborators, techlovers, and interns in the U.S., Mexico, and Morocco.
In brief, 2021 has been a consolidating year for what makes us Advancio in our efforts to make bold steps in new innovative and specialized products and services. We are ready to continue helping your business grow with us in 2022! See you next year, techlovers!