IT outsourcing has become a much more popular cost saving strategy that helps tackle talent acquisition and turnover. But there are areas where staff augmentation can boost your business. Want to know which ones you can count on? Continue reading!
Staff Augmentation Advantages for your Business
Cutting costs is a driving factor in implementing a talent strategy. In this case, the perks of counting on IT outsourcing outweigh the expenses generated by payroll benefits and taxes. It's better to implement staff augmentation than assuming the costs of permanent hiring and local conditions. We especially suggest you this if you only need resources for the short term.
Implementing an outsourcing strategy provides you with scalability in your projects and business goals by adding extra hands and skills. Since these professionals are already trained, you won't have to cover instruction expenses or spend time on these matters. Alongside getting things done, you'll free up time and a lot of work to focus on core-business activities.
Relating to talent effectiveness, focusing on skill sets that precisely fit what you need will allow you to avoid a lot of headaches in terms of expenses compared to other strategic investments. By filling the talent gap, you can also reduce stagnation in business operations.
Furthermore, this IT outsourcing model provides you with a fresh and new perspective about your business operations alongside bringing more flexibility to them. First, adding talent fully focused on specific duties and responsibilities can give you insights about certain processes without pre-existing judgments. Second, if you have projects or goals that don't require full-time dedication or are about to last the long term, this approach facilitates these conditions.
As a result, staff augmentation reduces time, talent, budget, and job nature limitations to boost efficiency in hiring, training, and performance. This can be experienced in time difference management, resource reallocation, business profitability, and delivering value.
How IT Outsourcing Works
We've mentioned what staff augmentation can bring to your organization, but we also believe that it's important you know how this plays out. Most outsourcing companies start recruiting more demanding job positions under a revision process and the promise of offering talent for different projects to grow. Once the meeting with the client has been set, they do a business evaluation that reflects your IT outsourcing requirements to offer you resources to fill that talent gap.
The goal is to provide you with a flexible team size whether you need big or small ones. On their side, the agency is ready to reallocate resources to other projects if needed. In this sense, talent will be part of your virtual team more than just hiring resources; you'll also be able to manage and integrate them into your business culture and project guidelines.
The next step then is to discuss a contract with a strong focus on relationship management and clear communication. Together, you'll agree on details like reports, deliveries, timelines, and goals, among other things.
At Advancio, we've established the right process for matching talent from the start. We've created a recruitment process funnel comprised of various types of interviews, tests, and verifications. So we can make sure we have qualified talent available for your needs. We then offer a contract and start the onboarding process with a basic term knowledge transfer in accordance with your project requirements.
But our proprietary gamification process doesn't end there. We get high quality results and high completion rates if you need to hire developers because we focus on a growth career plan. This is based on constant training as well as personal and professional deployment.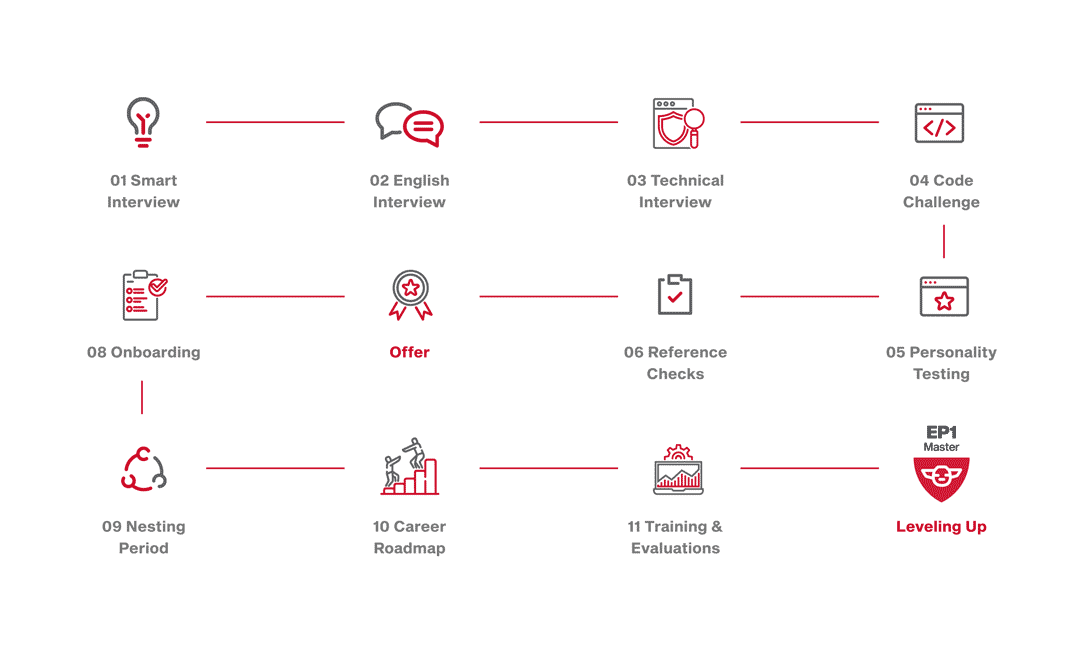 If you need to build a virtual team, let's talk!
When to Consider a Staff Augmentation Team
You might think that launching a new development is the only approach to implementing staff augmentation. However, there are other cases in which you can also take advantage of this strategy.
Tech tip: When you're looking for an IT partner, you need to have the right tools, experience, resources, credibility, and tailored work arrangements that best fits your business model. It's important they understand your business development. Consecuently, they'll provide you with boosted knowledge transfer on partnership expectations to mitigate operational risks.
Now that you know how IT outsourcing can benefit you, the next step is to implement staff augmentation. If you are about to hire developers, let's jump to it!
Follow us on social media and keep updated!